Compression Components Texas offers full repair and re-manufacturing of all major compressor components, including cylinders, frames and major internal components.
Our experienced staff has the knowledge and proper tools to properly repair and rebuild to OEM specifications.
Compressor
Package Services
Compression Components Texas along with our strategic partners, offer full compressor package repair and re-manufacturing services. From small packages up to and including Cat 3600 series packages, we have the expertise to accomplish any level of services required. From simple make ready to total re-manufacturing and re-configurations, we have the facility, people, and know-how to get the job done properly with on-time delivery.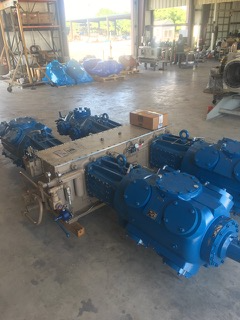 Compressor Engine Services
Compression Components Texas offers a full swing engine program for customers that demand quality work and excellent service. 
We stand-by on location for the old engine to be removed from the compressor with no wait time charges. The old engine is returned to the shop for rebuild where the process is repeated.